International Brass Band from Pesaro/ Italy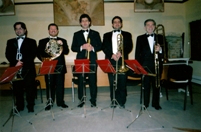 Since the beginning the band provides an intensive and differentiated concert's activity. The events are coordinated from its founder and its artistic director Maestro Alberto Mencucci. He is the association's chairman since April 1975.
The shape of a quintet is rare phenomenon in the field of brass-band music. The musicians working in it are very talented and graduated at the conservatorium "G. Rossini" in Pesaro/ Italy and other conservatoires and music academies with a tradition of more than 30 years in the local and international working field.
About 1000 concerts have been giving in Italy. The quintet takes part in a lot of conferences, performances and international festivals. Many concerts were recorded - such as life concerts, studio performances, radio and tv presentations in Italy and abroad. In the local, Italian and international press you can find many articles, information and reviews about the quintet's work.
The repertoire of Quintetto Rossini contains baroque music, brilliant music pieces of the age of Romanticism, rag-time, well-known film and musical music as well as modern music. Latter was composed especially for this quintet of Maestro Alberto Mencucci by pre-emited Italian and foreign composers. Furthermore the band presents interesting and famous music pieces created by composers like Rossini, Verdi, Bellini, Donizetti and Mascagni.
Throughout its more than 30 years' intensive work Quintetto Rossini won a lot of prizes. The musicians organized more than 120 concerts tours playing in the most famous theaters on all 5 continents.