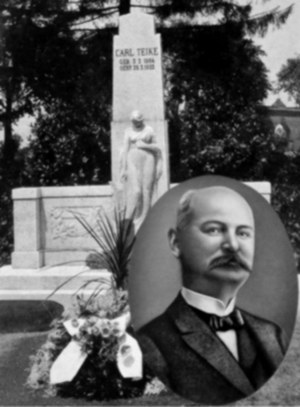 The composer of one of the most well-known marches, Carl Teike, was born in 1864 in Dąbie near Szczecin. As a boy he played oboe in the Würrtemberg Regimental Orchestra in Ulm. During this time he wrote the march "Alte Kameraden". But life is sometimes brutal, the music piece was unappreciated. The conductor gave him back the sheets of music in the presence of Teike's comrades saying "There are already enough of marches. You can throw this into the oven." Teike liquidated his post. During the farewell party Teike and his comrades - after having some beers - think up the march's title. Since then this melody began his journey around the world making a "breath-taking" career. For 120 years it is in the repertoires of almost every wind orchestra. It was played during the opening ceremonies and the final events of Olympic Games, at the Broadway in New Year, the Champs-Elysee in Paris, in London during the coronation in 1937 and for the Queen Elisabeth in 1959.
After leaving the army Carl Teike continued as a policeman until he died. At first he lived in Potsdam. Since 1909 he worked as a police officer in Landsberg/ Warthe where he composed and was head of an orchestra in his free time. Exactly there he composed a dozen of marches, but the most well-known he sold for only 25 marks to a publisher in Szczecin.
Teike was buried on the cementary in Landsberg (the today's park Copernicus). As a sign of gratitude for his works, the music interested citizens of the town erect a magnificent monument. Unfortunately it didn't remain preserved.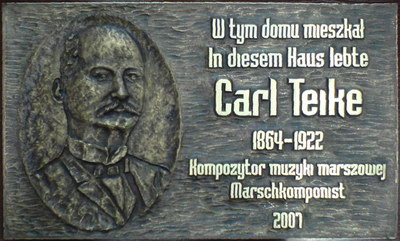 On 27th of May in 2007, the 85. anniversary of Teike's death, there was inaugurated a commemorative plaque in honour of Carl Teike at his house in Gorzów Wielkopolski (formerly Landsberg/ Warthe). This happened so during the International Meeting of Wind Orchestras Alte Kameraden which offered a great opportunity for such a celebration.
Source: Dariusz Barański Gazeta Wyborcza
​