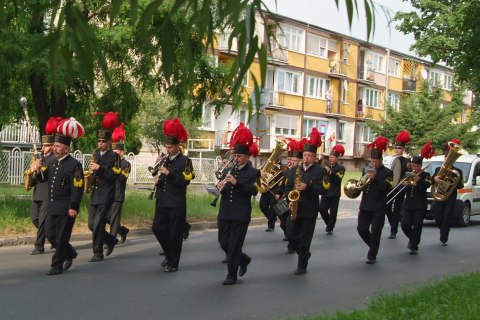 Tradition of making music by miners working in Turów Mine is an undeniable evidence of building up the cultural needs and possibilities of satisfying them in this part of Poland.
The orchestra came into being in 1948, and has been acting till now. The founder and the first conductor was Michał Durajczy. He was followed by: Jan Jarzyna, Józef Sztukowski, Tadeusz Grudziński, Czesław Słupecki. Since 1994 this post of eminence has been fullfiled by Jerzy Brzozowski, who cultivates the rich musical tradition of the orchestra.
The Factory Wind Orchestra PGE KWB Turów S.A.is a concert – stage group performing popular music and jazz.
Despite of a not numerous amount of march pieces, the orchestra also presents parade drill.
The orchestra also has in its repertoire compositions of famous composers such as Gershwin, Miller, Petters, Basic, Ellington, Gudman, Parker and others. Since 1998 a vocal and dancing groups have been acting together with the orchestra.
The Factory Wind Orchestra is the prize-winner of many festivals in Poland and abroad. The source of admirable successes and its artistic development is the hard work and devotion of all members of the orchestra. It were awarded numerous medals and rewards.