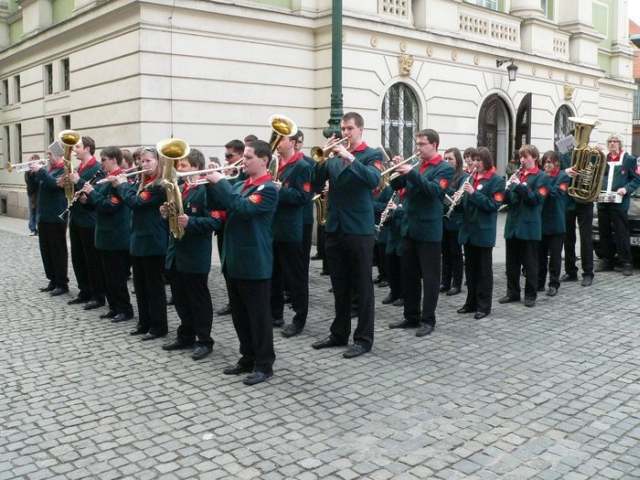 The Youth Wind Orchestra at the School of Music in Vimperk/ Czech Republic was organized by Peter Stanek in 1991.
In 1993 the orchestra began a cooperation with the successors of Masaryk School in Vimperk and with the composers Jiri Rada and Jaroslav Dufek. Three years later the orchestra achieved the first triumphs. In 1997 it won the first price in the Czech Competition of Youth Wind Orchestras "Cermakovo Vysoke Myto", and this success was repeated four times.
Within the Czech competition of Schools of Music, organized by the Czech Ministry of Education and Youth, the orchestra won twice the first price - in 1998 and 2001, once the second price - in 2004, and the third place - in 2007. For winning the first price in "Concerto Bohemia", in 1998 the orchestra was distinguished by the appearance in the Spanish Hall of the Castle of Prague. In 2001 it belonged to the best on the International Competitions in Decin and Prague and in Leszno/ Poland. It won again in 2006. In its musical output it also have won the silver medal at the competition of the Big Wind Orchestras in Ostrava.
The Youth Wind Orchestra at the School of Music in Vimperk takes part at parades of prestige such as: in Kmochov Kolin, FIJO Cheb, FEDO Steti and so on. It gave concerts in Austria, France, Luxemburg, Germany, Poland and Italy.
At present, there are 70 musicians in the orchestra with the average age of 16 years.