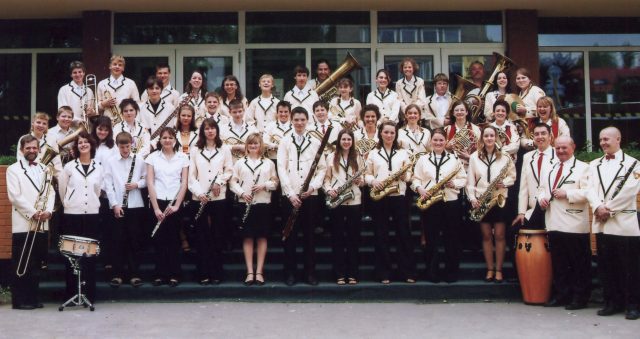 In April 2002 a school wind orchestra came into beeing, which later converted into musical band called Municipal Wind Orchestra at the School of Music in Vratimov in which 45 people are active. Majority of them are the students of the School of Music.You can meet the orchestra at each ceremony organized in town and beyond.
The orchestra usually gives concerts in our region, but in 2003 it had possibility to introduce itself in Zabrze/Poland. Every year there is organized a one-week-training in the mountains Beskidy. At the end of which there is usually giving a concert.
The orchestra takes regularly part in copetitions of organized by the Ministry of Education for Schools of Music in Czech Republic and wins the leading positions. In 2004 the orchestra won the first reward in Moravia – Silesia region competition.
The artistic manager and conductor is Mr. Josef Vrablik. Mr. David Schreiber keeps an eye on the organizational things. He is also a conductor. The popularity and the artistic level of the orchestra grows up constantly.
The orchestra was proudly taking part in the International Competetition of Youth Brass Bands in Jastrzębie – Zdrój / Poland in 2007. What concerns other succeses of the orchestra: It took part in TV program on Ceska televize: ..... a tuhle znate ? ... which could be seen on 3 November 2007. You can get further information about the orchestra on the internet page www.zusvratimov.cz.
The members of the band are usually students (9 to 20 years old).