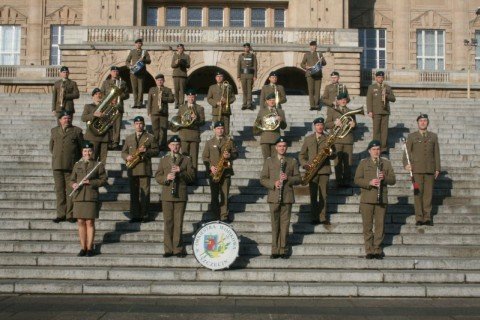 The Garrison's Orchestra in Szczecin became a constant point on the cultural map of West Pomarania. For over fifty-year period of its activity, it took part in all more important aspects of political, social or cultural life of the town and province. It is the inheritress of tradition the 12th Infantry Regiment's Wind Orchestra which came into being due to the order of the High Command of Polish Army on March 15th,1945 in Poznań. In autumn 1945 the orchestra was carried over to Szczecin where it is stationed to the present day. The musicians in this orchestra are very good prepared instrumentalists.
At present there are twenty-six musicians in the orchestra. Majority of them are alumnuses of the Military High School of Music in Gdańsk. Some of them are graduates from Musical Acadamies. Their work and engagement made that the orchestra is up to the mark.We can realize it while listening to the music they perform. There are all kinds of music, to begin with marches, Polish dances and songs, transcriptions of symphony compositions and the newest pop music. In the orchestra four chamber groups are active: brass quintet, trombone quartet, clarinet trio and a group of light music.
The orchestra also appeared on the radio, TV and recorded CD's. It often gives concerts in foreign countries and spreads Polish music, history and tradition. The musicians wan numerous awards, taking part in wind orchestra's festivals in Poland, Denmark and Germany. Thanks to the cooperation with the International North – East Corps in Szczecin, the orchestra often appears in Duesseldorf, Bremenhaven, Neubrandenburg, Denmark and gives concerts of prestige in Karup, the abode of NATO. The orchestra has contacts with the Szczecin Philharmony, the opera, cooperates with the Amateurish Music Activity, the Combatand's Choir acting in Szczecin. It improves its skills and becomes more and more popular in Szczecin and in the region.
The constant exchange of experience, the varied repertoire and the cooperation with culture centres influence the skills of the oechestra's members and makes concerts more interesting.
Capt. Jarosław Michałko is the bandmaster and insign Mariusz Sekulski is the tambourmajor.