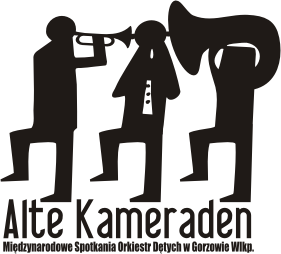 The City Cultural Centre in Gorzów Wielkopolski/ Poland as the organizer
and the
World Association of Marching Show Bands
invite you to:
"Alte Kameraden 2020
- International Meetings of Wind Orchestras and Marching Show Bands -
Already for the 14th time the festival offers its audience colourful parades, worth seeing shows and excelent concerts of wind and marching bands as well as of similar music groups from different countries.
The event is open to all kinds of music played on wind instruments. There will be marches, folk and film music, pop as well as transcriptions of classical music.
Our town ist strongly connected with the so colled "king of marches" - Carl Teike, who in the beginning of the 20th century lived and worked in Landsberg/ Gorzów Wlkp. In honour of him the event was named after his world-famous march "Alte Kameraden/Old Comrades".
During the last 13 years the festival got well-known not only in Poland, but also abroad. Ensembles from Denmark, Belgium, Germany, the Czech Republic, Lithuania, Ukraine, Austria, Hungary and of course Poland were guests.
In the frame of the festival "International Meetings of Wind Orchestras and Marching Show Bands 2020" there will take place some contests:
- Marching-Parade-Contest - Concert-Contest - Show-Contest
Thanks to the cooperation with the World Association of Marching Show Bands (WAMSB) the festival will be a qualifying round for the World Championships of marching showbands in 2021 and 2022. The jury panel will thus be completed by internationally experience jury members of WAMSB. Judging rules will comply with the One World Judging System used throughout the world.
Dear Musicians and Music Lovers from near and far – we kindly invite you to Alte Kameraden 2020!
From 16th to 17th May 2020 we´d like to celebrate with you, have fun with music and together with you: show what we do best – play music! We´d like to show different kinds of making music, exchange experiences and make international friendships.
You will be sincerely welcome by:
Hanna Błauciak - Director of the City Cultural Centre in Gorzów Wielkopolski (Poland)
Overnight accomodations will be arranged by the organizer and are free of charge The costs for catering will also be covered by the City Cultural Centre.
For more informations feel free to ask:
Contact in Polish: This email address is being protected from spambots. You need JavaScript enabled to view it.
Contact in German and English: This email address is being protected from spambots. You need JavaScript enabled to view it.
WAMSB representative in Europe: Dieter Buschau This email address is being protected from spambots. You need JavaScript enabled to view it.
website: www.altekameraden.mckgorzow.pl
DOWNLOAD: